A Historical Overview: Japanese American Internment in the 1940's and Muslim Registry in the 2010's under President-elect Trump
BY KEI M. ASHIZAWA, GINGER KOTO VAUGHN, & ANDY VO
Members of President-elect Donald J. Trump's transition team made headlines when they doubled down on a proposal to reinstate a registry of immigrants and visitors from Muslim countries. While history has shown that blanket discrimination of Americans by race, national origin, or religion is both wrongheaded and ineffective, Trump's team inadequately cited internment of Japanese Americans during World War II as clear precedent for a proposed "Muslim registry."
To better understand the arguments against this proposal, we have provided a historical overview of Japanese American internment and the National Security Entry-Exit Registration System ("NSEERS") that members of Trump's team hope to reinstate.
Korematsu v. US – SCOTUS Affirms Constitutionality of Internment of American Citizens
In the landmark case Korematsu v. United States, the Supreme Court upheld the constitutionality of Civilian Exclusion Order No. 34, which called for the detainment of American citizens of Japanese ancestry during WWII. Order No. 34 was promulgated under authority of Executive Order No. 9066 and the Act of March 21, 1942 as a protectionist means against espionage and sabotage while at war with Japan.
Even then, Justice Hugo Black recognized the potential dangers of this decision in his majority opinion, writing:
It should be noted, to begin with, that all legal restrictions which curtail the civil rights of a single racial group are immediately suspect. That is not to say that all such restrictions are unconstitutional. It is to say that courts must subject them to the most rigid scrutiny. Pressing public necessity may sometimes justify the existence of such restrictions; racial antagonism never can.
Though the Supreme Court has never directly overturned the Korematsu decision, the federal government has recognized its wrongs in several ways:
In 1983, Judge Marilyn Hall Patel of the Northern District of California reversed Korematsu's conviction forty years after the fact, and recognized the "manifest injustice" to those interned.
In 1988, led by the Japanese American Citizens League ("JACL") and Rep. Norm Mineta of California, Congress approved the Civil Liberties Act of 1988. This bill formally pardoned Korematsu and other Japanese Americans convicted of violating laws or executive orders during internment. Through the Act, President Reagan and Congress also apologized and made appropriations of $20,000 (approx. $40,000 in 2016) to more than 100,000 Japanese Americans who were forced to relocate from their homes to live in concentration camps during WWII.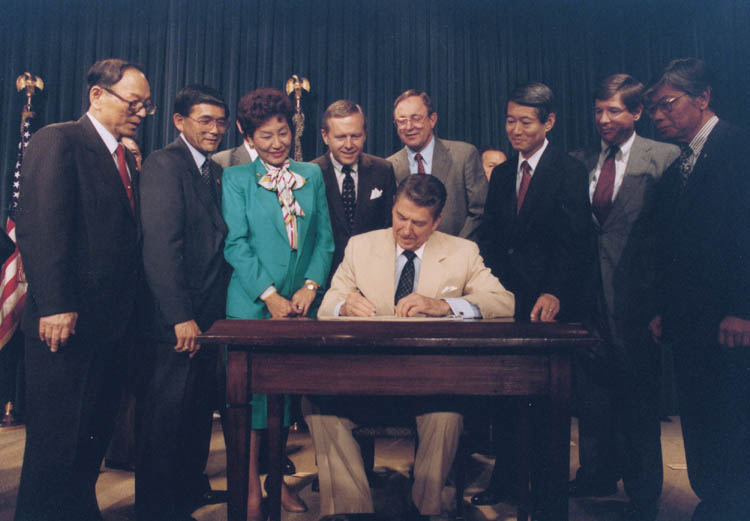 In 1998, President Bill Clinton awarded Fred Korematsu with the Presidential Medal of Freedom for reminding Americans that "we must uphold the rights of our own citizens even as we fight tyranny in other lands."
In 2010, Congress unanimously passed a bill recognizing the Japanese American servicemen and women of the 442nd Regimental Combat Team, the 100th Infantry Division, and the Military Intelligence Service with the Congressional Gold Medal. This bill, Public Law 111-254, recognized that these veterans, including decorated war hero Sen. Daniel Inouye of Hawaii, also fought a battle of "discrimination at home" in the United States.
NSEERS – Ineffective and Redundant
Shortly after September 11, 2001, the Department of Justice put into place the National Security Entry-Exit Registration System ("NSEERS"), which affected males 16 years or older from 25 countries, 24 of which have majority Muslim populations. The program had three parts: (1) registration, fingerprinting, and interrogation of males from these countries at an American port-of-entry; (2) domestic registration of non-citizens already in the United States under a temporary visa at a local immigration office; and (3) exit registration at the time of departure.
In 2003, the Department of Homeland Security ("DHS") formally ended the domestic registration portion of the program, which led to deportation proceedings against almost 14,000 men. In an article adapted from the 2007 book Less Safe, Less Free: Why America is Losing the War on Terror, David Cole and Jules Lobel claimed that the Bush Administration had called in 80,000 foreign nationals for fingerprinting, photographing, and "special registration"; sought out 8,000 young men for FBI interviews; and placed 5,000 foreign nationals into preventative detention. Despite these efforts, they wrote, not one of those people stood convicted of a terrorist crime. In other words, the government's record was "0 for 93,000."
Eight years later, DHS found NSEERS to be "redundant" with existing port-of-entry technology that collects data from visitors and immigrants worldwide, and found that the program "did not provide any increase in security." DHS then removed all 25 countries from the NSEERS compliance list.
NSEERS 2.0 – "Muslim Registry" under President-elect Trump
As examined above, while Korematsu considers the rights of American citizens, NSEERS and its future iterations primarily consider the documentation and immigration process of non-citizens. This is an important distinction, as any president has broad powers to control immigration policy.
While GOP Chairman and incoming White House Chief of Staff Reince Priebus said he was "not going to rule out anything" regarding a registry, he also stated that the administration would not "have a registry based on religion." Potential Secretary of Homeland Security (and principal architect of NSEERS) Kris Kobach defended NSEERS as impacting non-Americans from predominantly Muslim nations but without regard to religion. However, documents from a meeting with President-elect Trump contradict his claim, revealing that Kobach wants NSEERS to include vetting questions about Sharia law and jihad. And there is no doubt about the disproportionate effect a future iteration of NSEERS will have on Muslims worldwide.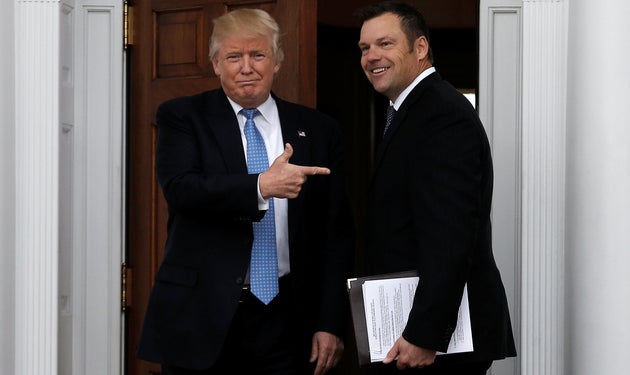 We cannot deny the importance of national security and the current failures of immigration regulation and policy. However, Trump's team need not explore the revitalization of NSEERS as it has already been deemed obsolete, redundant, and discriminatory. Korematsu is a poor precedent for any such registry. Rather, it provides a precedent for the blatant wrongs of discrimination by national origin and denial of human rights.
In an America that is divided by the current state of politics, we must each do our part to understand history, its injustices, and their application to modern dilemmas. We must persevere to create and uphold policy that is calculated and fair, and not simply an easy response to quell hysteria and fear. We must move forward with careful and deliberate action with the intent of improving our civil society and upholding our values as a democratic nation.
Kei M. Ashizawa is an attorney from Houston, Texas who is currently earning her Master in Public Administration from Harvard University's Kennedy School of Government. She is a hapa nisei Japanese American who is active in U.S.-Japan relations.
Ginger Koto Vaughn is a Japanese-American media consultant living in Japan. She is faculty at Akita International University where she focuses on global communication and public relations. She holds an MBA from Waseda University and MA in Communications from the University of Houston.
Andy Vo is the Online Managing Editor of the Asian American Policy Review, and a second-year Master in Public Policy student at the Harvard Kennedy School. He is also the co-chair of the LGBTQ Caucus and a founding member of the Live Poets Society, a spoken word group at HKS.